There are some big changes on the horizon for Microsoft 365. We're looking ahead at Copilot, the young contender, and the future of modern work, coming to completely change the game, from our old Outlook inbox that is increasingly seeming like it might start yelling at the kids to get off its lawn. 
We know that to use Copilot in Outlook we will need to be using the most up to date version, and here is how you can best prepare yourself for that change to the sleek new generation of Outlook. Cloud based, updated and debloated, New Outlook will open a new world of possibility, and that's before you even get your hands on Copilot! 
This is Part 1 of a 2 Part Blog series on Microsoft Outlook. You can read Part 2: In with the New Outlook here.
Getting Started – How to find New Outlook
If you are eager to try out this hot new model, you have a few options. You can download Outlook for Windows from the Microsoft Store for free on Windows 11.  
You may have also noticed a Try the new Outlook toggle available in upper right of your classic Outlook window, switching that on will download the new app and let you switch to the new version. Don't worry you can still access the classic Outlook from the new one with the same toggle.

Your third option is the Outlook web app, which also gives you access to all these features.
Seamless Transition – The Outlook Web App
One of the standout features of the new Outlook is its close alignment with the web app available at outlook.office.com. This not only ensures that you can access your emails, calendars, contacts, and tasks from any device with an internet connection but also provides a consistent and familiar user experience across different platforms.
If you find it challenging to fully embrace the new Outlook, no worries! You can dip your toe in by occasionally using the web app. Take an hour here and there to acquaint yourself with its new features. You might find yourself surprised by how much easier and faster new Outlook is, and all the integration it has with your Microsoft 365 environment.
Cloud Attachments – Streamlining File Security
Say goodbye to the hassle of mass-duplicating documents by emailing them back and forth as attachments. The new Outlook simplifies this process by treating attachments as links by default. This not only makes it easier to manage your version history but also enhances security, particularly when you change file permissions to restrict access to only the intended recipients and allowing you to manage access to those links in the future.
Using a link to the same cloud document will allow you to collaborate on one source of truth and will allow you to avoid having files with names like new-final-updated-FINAL-clientedits-v7.doc filling up your storage. You can still attach a copy of the document by clicking the document link and selecting Attach as a copy.
But that's not all – you can now type a forward slash in the body of your email to bring up recent documents or start typing the filename to search your cloud documents, making it easier to provide context to each linked document.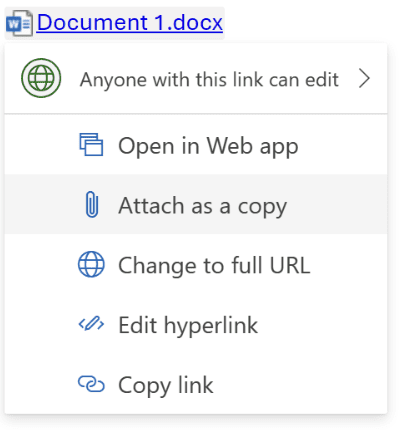 Customise Your Experience – Make it Yours
Not digging the new look? Change can be daunting, but luckily Outlook offers customisation options aplenty. Simply go to Settings > General > Appearance to tailor the look to your liking.
For a more familiar appearance more similar to classic Outlook, you can choose the light theme with white, and find the little downward arrow on the right to change the ribbon layout to classic and you won't notice the difference. You can also adjust other settings such as font size, reading pane position, message preview length. It's your Outlook, so make it feel like home.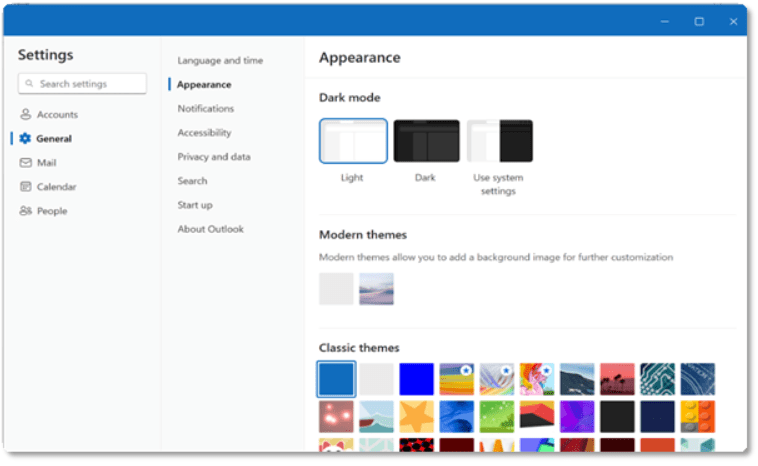 Conclusion
The new Microsoft Outlook offers more than just a flashy new look, it also brings a host of new features that we will dive into in our next update. Give it a try and let us know what you think!
Don't forget that to get the full benefits of Microsoft365 Copilot, you need to be using the new versions of both Teams and Outlook. There is no better time to get on board with new Outlook, the Outlook of the future.
Our Training & Adoption team at IComm are experts in all things M365 and can help you get onboard with these changes. Reach out to us for a chat on how we can get you upskilled in 365 and Copilot ready.