Microsoft has released version 4.16.40.0 of Microsoft Teams Rooms on Windows, bringing with it an improved user interface and several new features. While the update may seem like a simple UI change, there is more to it than meets the eye.
What is in this Teams Rooms Update?
The new user interface is an entirely new application called 'Teams First', which replaces the old 'Skype Room System' application. This change provides users and administrators with a more user-friendly interface, although it may require some updates to documentation and training collateral. 
I recommended you start using the new interface as the standard going forward, as it will become the standard interface sooner rather than later.
The new Teams First application offers new capabilities for Microsoft Teams Rooms on Windows, both in terms of device-specific features and remote management. Additionally, new Pro features will be enabled in the future, demonstrating the value of the Pro license for all Teams Rooms devices. 
Overview of the UI changes to Microsoft Teams Rooms on Windows
So, let's explore the new features and improvements introduced with the revitalized Teams Rooms user interface. One notable addition is the new Calendar pane, which allows users to scroll through the meetings scheduled for the entire day, expanding beyond just the next three meetings as available in the legacy interface. The home screen also includes the option to join both Teams Meetings and Zoom Meetings using meeting IDs, thereby enhancing the capabilities of Direct Guest Join.
Another feature, 'Invite This Room', provides instructions for users to join the room via 'Proximity Join' using the Teams Desktop or mobile client. Additionally, the new interface offers a 'More' button, granting access to accessibility actions, settings, and the ability to report problems to the local IT team.

Diagram 1 – Old UI on Left, New UI on right.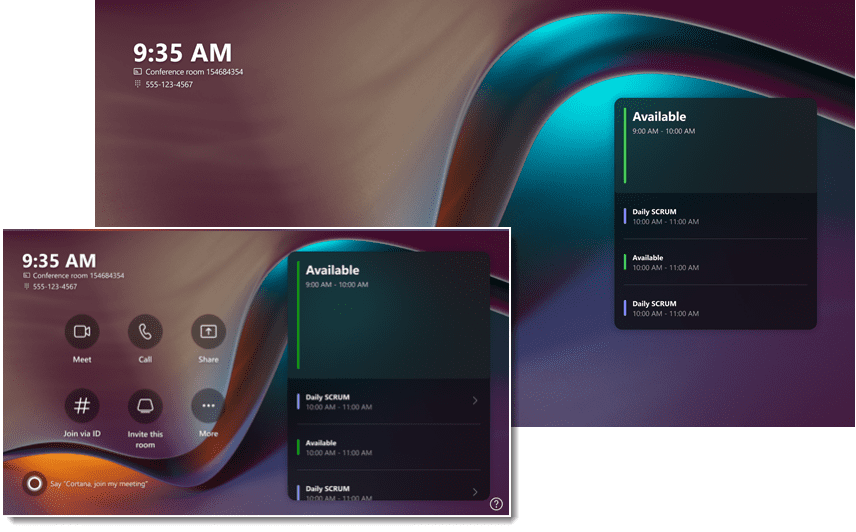 Diagram 2 – New Touch Panel Layout and Calendar on Front of Room Display.
How does this Teams Rooms update affect organisations?
In terms of how this update affects organisations, there are a few key points to consider.
Firstly, the updated home screen experience provides an improved console and front-of-room display for Teams Rooms on Windows. 
Five new themes are available, including a default theme called 'Vivid Flag'.
Existing custom themes will be maintained and not overridden by this update. However, you may need to adjust the layouts due to the new calendar element on the room display changing dimensions. 
The new calendar on the home screen now uses Exchange REST APIs instead of Exchange Web Services (EWS) as previously used, so it's essential to ensure compatibility between Exchange Calendar and Microsoft Teams.
The enhanced layout switcher in the view switcher menu offers users more control over the front-of-room displays during meetings. This allows for personalisation of the front-of-room view, including the visibility of the meeting chat and the components displayed on the left and right panels. IT administrators can configure the default number of panels and the default component on each panel using XML.
Another significant addition is the Teams Premium support, which includes features such as Watermarking, End-to-end Encryption for meetings, and Sensitivity labels. To activate these features, users need to access the Meeting options in Teams Calendar or Outlook on desktop or mobile devices. 
How to prepare for the Microsoft Teams Rooms update
To prepare for this update, you should notify users about the updated experience and update training and documentation accordingly. It's crucial to ensure compatibility with Exchange Calendar, particularly for organizations using on-premises Exchange servers. Furthermore, familiarising IT administrators with the enhanced layout switcher and Teams Premium features will help organizations make the most of the new capabilities.
While it may initially appear as a simple UI change, this update goes beyond that. It is important that you prepare your environment, and your users accordingly to ensure the change is as easy as possible.
If you would like more information or need advice on how to best prepare for and deploy this update, get in touch with IComm so we can help you make the best of these new features and changes.