If you've been wondering what on earth Loop is and how to get yourself in it, we've got you covered. We've all had access to Loop components in Microsoft Teams chats for over a year but don't worry if you haven't noticed them yet, you're not alone. I'll take you through the basics of this dynamic and versatile collaboration platform, giving you an insight into a new way of working.
To start us off we'll run through the three core elements of Microsoft Loop—Workspaces, Pages, and Components—and explore the use cases and scenarios Loop brings to the table.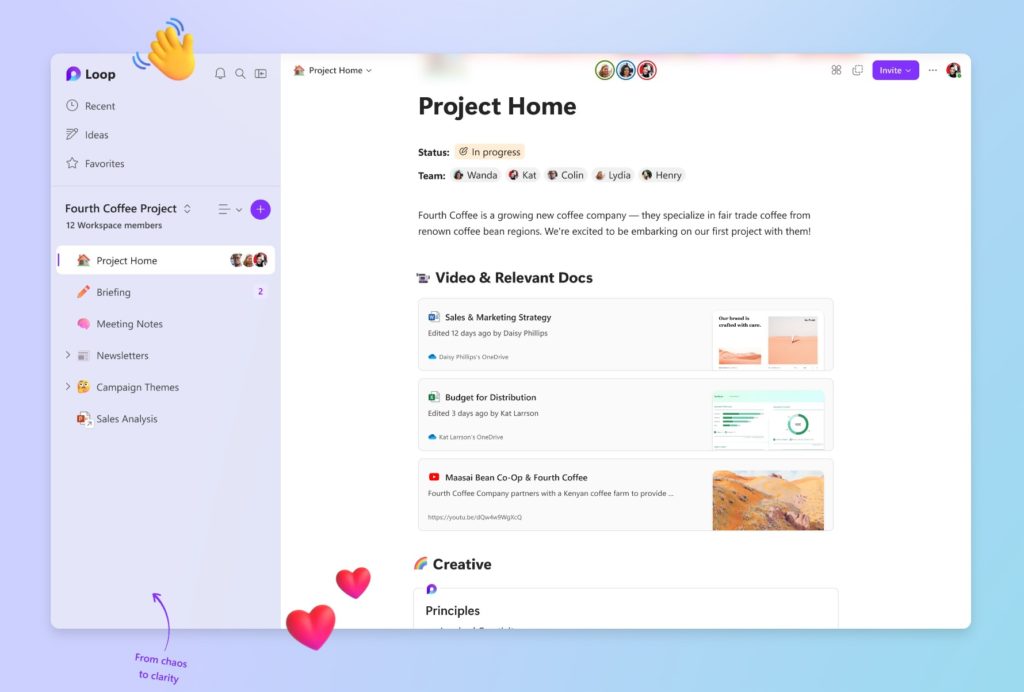 Workspaces: Creating a Collaborative Home
Workspaces serve as the foundation of Microsoft Loop. If you're a OneNote user you can think of them as notebooks within the platform, where you can create dedicated spaces for your team or project. Sharing access to a workspace enables real-time collaboration, and you can easily see who has access through the accompanying profile pictures. When you create new Workspaces you will be prompted to provide keywords for Loop to search and pull relevant documents from your OneDrive and SharePoint network, consolidating all your team or project's essential files in one place.
Pages: Where Work Happens
Pages within Microsoft Loop are where the actual work takes place. These pages provide a canvas where you can add and organise various content elements. You can start by simply typing or use the slash command to explore different types of content that can be added. Each page can be customized with an emoji and a cover image to provide visual distinction. Additionally, pages offer flexibility, allowing you to rearrange content by dragging and dropping or even share an entire page as a standalone component.
Components: Versatile and Shareable Content
Components in Microsoft Loop are created from the content within pages and can be utilised in multiple places. This feature enables seamless sharing and integration of information across different contexts. For example, a task tracker created on one page can be effortlessly added to other pages such as project notes or briefs. Components can take various forms, such as checklists, tables, or even combinations of different elements. The changes made to a component are reflected and kept up to date across all instances, providing consistency and efficiency.
Best Use Cases and Features:
Microsoft Loop is at its most useful when used for simple administrative and planning tasks. If you want to write a whole report or crunch hard data go to Word or Excel, but if you want dynamic collaboration? Well, this is the platform!
It is ideal for small to medium teams looking to use various elements from the rest of the Microsoft 365 stack all together in one place. Think of a OneNote notebook that includes your To Do lists from planner, tables from Excel, paragraphs from Word, the diagrams in your PowerPoint deck without needing to create a whole new file directory to maintain these documents and the ability for each component to be shared out without having to grant access to the whole workspace, all the while the data stays up to date.
Create easy lists and checklists, share a paragraph if you just need to edit some copy together, use tables, which can then be edited to serve many functions, or you can skip the editing and use the templates including meeting notes,voting tables, progress trackers and task lists.
Let's have a closer look at some of these templates:
Meeting Notes
Coming very soon to Teams and already in preview for some is the Loop Powered meeting notes. Soon you will see while booking a meeting an option to add an agenda everyone can edit. Adding this to your meeting will give you the meeting notes Loop component, with a checklist to create and eventually mark off your agenda, a bullet point list to add meeting notes and a task tracker down the bottom where you can handily record actions, and assign them with a due date. Then when you join your meeting you can click the notes tab to access the component and make notes as you go, collaboratively. These components will sit within the Meeting Organiser's OneDrive, in a new Meetings folder. You can access the notes later via the meeting in Teams, the Loop app or OneDrive to check the information and update the tasks.
Task Assignments
The task assignment components of Loop go further than meeting notes and can be completed as a stand alone component with the Task List template. Simply add a task, assign someone from your network and provide a due date. Because of the integration with Planner and To-Do you can be sure that assigned tasks are tracked and accessible, boosting accountability and productivity. Find them in the Planner app under their own bucket, or see how they automatically show up in Microsoft To-Do.
Voting Tables
Voting tables within Microsoft Loop provide a flexible format for sharing and voting on ideas. This component template gives you a 4 column table for you to share and vote on ideas and discuss their pros and cons. You can easily add new column to include extra information or remove them to simplify or add additional rows for more voting options, allowing everyone to provide their own input.
Progress Trackers
Creating a table from scratch can allow you to work on exactly the information you want, and you can access tag or voting column types with any table you create. Another templated application of the humble table is the progress tracker. Here, using different types of columns like people, tags and dates, as well as text formatting to create a checklist you have an interactive progress tracker that can be moved from your check in meeting notes, to your whiteboard, to your shared workspace for the project.
Do you feel more in the loop now?
Ready to explore the endless possibilities this platform can bring to your project and team collaboration?
So, what are you waiting for?
Visit loop.microsoft.com to experience Microsoft Loop for yourself. We would love to hear your thoughts on how you plan to use Loop and your initial impressions. Join the conversation on LinkedIn or reach out and let us know your insights!